Last night, the Raptors won their first NBA Championship in franchise history. Hockey fans pretending to love basketball clad in Raptors streetwear celebrated throughout the North. Drake released not one, but two tracks, there were people doing kegstands on buses, and most importantly, there was a man carrying around a rare Kawhi plant.I'm no botanist, but it seems as though a Kawhi plant can thrive under any condition. Kawhi had no trouble establishing his roots in warm and dry San Antonio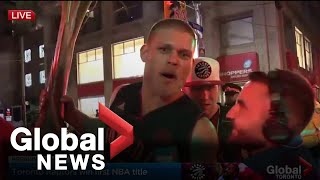 June 13th marks the Anniversary of the day we lost journalist and forever Buffalonian Tim Russert. Here's a short video WNYmedia's Christina Abt and Marc...
Attorney General James Seeks Preliminary Injunction Against the Trump Administration to Stop Health Care Discrimination   HHS Final Rule Would Expand Ability of Businesses and Individuals to Refuse to Provide Necessary Health Care on the Basis...
Buffalo's history is surprising and rich, replete with countless historic sites and museum-worthy stories. From the heart of downtown Buffalo to the rural corners of Erie County and beyond, global history was written right here in our own backyard.
To celebrate that history here and across New York State, Path Through History Weekend, an initiative of I Love NY and Empire State Development, helps visitors blaze a trail to significant historic sites and remarkable natural wonders. During the spring celebration weekend, June 15th and 16th, Path Through History is providing 8 ways to discover our history with several different events across the Greater Niagara region. Here's what's in store:
Buffalo Civil War Trolley Tour, Forest Lawn Cemetery, 1990 Main Street, Buffalo – June 16th, 12:30pm-2:30pm or 3pm-5pm
Sgt. William Hengerer, Maria Love, Mayor William Fargo and many other Civil War notables are part of Forest Lawn's ever-popular two-hour Civil War tour. You will visit the final resting places of noted soldiers from Western New York, including African American and Confederate soldiers. This year's tour will also include an exhibit of Civil War artifacts courtesy of the Echoes Through Time Civil War Museum.
Doors Open Buffalo, All across Buffalo – June 15th, 10am-5pm
Doors Open Buffalo is a day of free public access to the interiors of downtown Buffalo's most architecturally and culturally significant buildings. This is a unique occasion to see downtown as you've never seen it before: beyond the doors. Enjoy behind the scenes tours and discover architectural gems hidden in plain sight.
Predators at Play, Hawk Creek Wildlife Center, 1963 Mill Road, West Falls – June 15th, 11am-4pm
Join in the behind-the-scenes and up-close encounters with Hawk Creek's live raptors, corvids, wild cats, reptiles and exotic birds with a live flying bird show and activities for kids. Refreshments, gift shop, and different training & enrichment activities scheduled through-out the day.
Stories for Flag Day, Theodore Roosevelt Inaugural Site, 641 Delaware Avenue, Buffalo – June 15th, 11am-12pm
Spin-a-Storytellers of Western New York, the area's premier storytelling guild, will present "Stories for Flag Day" at the Theodore Roosevelt Inaugural National Historic Site. Several members will tell stories (each 10-15 minutes in length), both fiction and non-fiction, humorous and serious, some based on personal memories, all tied to the theme.
Lewiston Food Tasting & Historical, 115 N. Water Street, Lewiston – June 15, 1pm
This guided food tour offers unique one-of-a-kind food tastings (enough for a filling lunch) while exploring the rich history of this small town near majestic Niagara Falls. Sample food and beverages from restaurants nationally featured on Food Network and The Travel Channel along with other local favorites. Explore the small town of Lewiston with history that links to the Underground Railroad, War of 1812 and much more.
Niagara History Center and Erie Canal Discovery Center, 215 Niagara Street, Lockport – June 15 and 16th, 9am-5pm
The Niagara History Center is a five building museum complex that houses various exhibits relating to local history. The Erie Canal Discovery Center offers users an immersive movie, and a hands on learning experience to help visitors to better understand the History of the Erie Canal. Enjoy free admission to both during Path Through History weekend.
Das Haus, Einhaus, und Der Stall Museum, 2549 Niagara Road, Niagara Falls –
Visit a bit of the old country and explore the region's German roots. Visit a 1843 log home, featuring a century old sitting room while discovering the migration story of the Prussian Lutherans and an exhibit of the local lifestyles of the past.
Rolling Hills Asylum Historical Tour, 11001 Bethany Center Road, Bethany – June 16, 2pm-4pm
Uncover a piece of New York's haunted history! Rolling Hills Asylum endeavors to engage the public by providing a venue and landscape to host historical tours of this former poorhouse with exhibitions, educational programs, and events.
The post 8 Ways to Enjoy Path Through History Weekend appeared first on Visit Buffalo Niagara.
The post Outdoor Adventure Race appeared first on Buffalo Niagara Waterkeeper.
It seems like it was just yesterday that the Buffalo Sabres had won the Presidents' Trophy, and were on their way to an incredible, and deep playoff run. With parties in the plaza, Goo Goo Dolls intros, and high hopes there wasn't much that could detract the fans from the soaring clouds of what would be tabbed "Hockey Heaven." Nobody could foresee the absolute dreadful anguish that lied ahead. Then on July 1st, 2007, a day in which most Sabres fans call the darkest day in Sabres history
In a small, unassuming storefront five minutes from downtown Buffalo sits one of WNY's most adored chocolate shops. Mike's Homemade Candies located at 2110 Clinton Street in Kaisertown is simply a must for all sweet treat-lovers.
Mike Melithoniotes and his wife Anna immigrated to Buffalo from Greece in 1957 and opened the first Mike's Candies on Sycamore Street in 1962. Seven years later, they moved the shop to Clinton Street and after Mike passed away in 2002, his daughter Suzi Walter took over the business and she's been operating the shop ever since.
Chocolate and candy-making has been a part of Suzi's life for as long as she can remember and her passion is fueled by the people she serves. Local residents frequent the shop, and out-of-towners looking to check items off of their "Buffalo foods" list make specific trips to secure their lot of chocolate, homemade caramel, marshmallow and other confections. Loyal Mike's followers who aren't able to come in-person, "mostly snow birds," Suzi explains, have products shipped to them. From time to time she'll get an international request– one of her furthest chocolate shipments was to China.
Chocolate covered sponge candy is their top seller and thousands of pounds of the rich-yet-airy goodness are churned out each year. Mike's carries classic milk and dark chocolate sponge candy as well as milk chocolate peanut butter, and milk and dark varieties of raspberry and orange. Suzi has never strayed from Mike's original, base recipe (it's that good). In fact, the decades-old recipe has earned Mike's Candies a spot in national food publications such as Gourmet, Saveur as well as the first and second editions of Roadfood.
Suzi credits the company's success to remaining consistent through the years and always using the highest quality ingredients. And it shows. Pure milk and dark chocolate with no additives creates a perfectly sweet, velvety texture – the coat-your-mouth kind. Each piece of chocolate is hand-dipped and all of the nuts used in their recipes are roasted in-house. It's how they've always done things and Suzi has no intention of switching it up.
Sponge candy is made year-round at Mike's Candies, however operations ramp up during the holidays, starting on National Sponge Candy Day (September 21). Suzi and her team make up to five batches of sponge candy per day during peak holiday season.
Of course you can find a wide array of non-sponge candy and chocolates at Mike's. Some favorites are the Charlie Chaplin (homemade, fluffy marshmallow with coconut and cashew) and the Stolen Haven (homemade marshmallow blocks covered in milk chocolate and topped with chopped walnuts).
If you haven't been to Mike's Homemade Candies, the summer months are a perfect time to stop into this Kaisertown favorite, check out the shop and chat with Suzi. She'll introduce you to what might possibly be some of the best chocolate you'll ever taste.
Mike's Homemade Candies, 2110 Clinton Street, Buffalo 14206 / (716) 826-6515
The post Classic Buffalo Spotlight: Mike's Homemade Candies appeared first on Visit Buffalo Niagara.
Whether you're an avid kayaker or a first-time paddler, we've got tours available for you! The post Kayak Tours appeared first on Buffalo Niagara Waterkeeper.