NEW YORK - In response to the ACLU's motion to request that the Supreme Court of the United States reconsider the case regarding the addition of a citizenship question to the Census given recent revelations about the existence of newly discov...
Last night, the Raptors won their first NBA Championship in franchise history. Hockey fans pretending to love basketball clad in Raptors streetwear celebrated throughout the North. Drake released not one, but two tracks, there were people doing kegstands on buses, and most importantly, there was a man carrying around a rare Kawhi plant.I'm no botanist, but it seems as though a Kawhi plant can thrive under any condition. Kawhi had no trouble establishing his roots in warm and dry San Antonio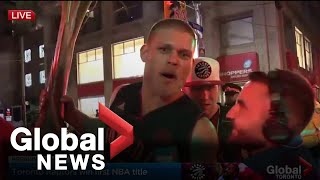 Tonight, FC Buffalo hosts the Pittsburgh Hotspurs in a key divisional tilt. Kick-off is scheduled for 7 pm, but The Situation Room will be there tailgating, as always, starting around 5:30 pm. Come join the Wrecking Crew and the rest of the Blitzer-faithful for the perfect start to the weekend! For tickets you can buy them here online or at the stadium gates.Be sure to keep it locked on Trainwreck Sports for FC Buffalo Blitzers coverage all season long!#ThisTrainNeverStops #ForOurCity
The post Outdoor Adventure Race appeared first on Buffalo Niagara Waterkeeper.
During a House Ways and Means Committee hearing titled "Pathways to Universal Health Coverage," Congressman Brian Higgins (NY-26) discussed the importance of defending pre-existing conditions protections codified in the Affordable Care Act, and stresse...
The 2018/19 season and postseason was undoubtedly a memorable one for the Bruins and their fans. A 107-point regular season and a berth in the Stanley Cup Final were a culmination of yet another successful campaign for a Boston sports team. A team with trusted veterans and solid young players to make a solid run at the Cup that was ultimately unsuccessful. After Game 7 on Wednesday night, the Bruins experienced the disappointment of failure at the brink of success.The Regular Season:Boston
Whether you're an avid kayaker or a first-time paddler, we've got tours available for you! The post Kayak Tours appeared first on Buffalo Niagara Waterkeeper.
The Wrecking Crew is back to recap the Pancho Packs charity event at New Era Field this afternoon, to break down the MONSTER Jeff Skinner contract extension, and make predictions for the NBA & NHL Finals.#ThisTrainNeverStops
Nation's longest-standing dedicated cancer center awarded 5-year, $22.5 million grant to pursue its mission Roswell Park was among first group of 3 centers designated by NCI in 1970s Rigorous review process assesses strength of research, impact on co...