<![CDATA[
Tea Party Assemblyman David DiPietro is in a full on Facebook feud with a constituent after he was called out for posting a false facebook post surrounding the inauguration of Donald Trump that included fueling a longtime Alt-Right lie about 'Paid Protesters' crashing the Trump inauguration:
Colleen Aungst simply decided to ask her democratically elected official to do a better job of uniting people instead of constantly dividing and finger pointing.  A fair request of someone elected to represent roughly 130,000 New Yorkers:

But in similar form to DiPietro's idols in politics like Donald Trump, Carl Paladino and others, he goes on to verbally bully Colleen, calling her names and telling her "Screw you!!" Complete with double explanation marks!!
As of this article and the above channel 7 story (see top), DiPietro has not publicly apologized for his outburst. There is also no proof that he or his family was in harm's way while in Washington for the inauguration.
https://youtu.be/s5ES1Z4UgDo
DiPietro was arraigned on second-degree harassment that was filed byAnne Leary, a village resident, on April 7, 2008.

April 7th was the final day of DiPietro's term as mayor. The incident allegedly occurred when Leary was in the village offices to pay her water bill. Leary claims that DiPietro approached her that day and said "Anne Leary, you are one person who has a lot of nerve coming here". According to the report he then threatened her by saying "You've undermined everything I've tried to do. You are going to get what's coming to you". Leary also claims that DiPietro cursed at her and further told police that there were village staffers who were present and heard the altercation.
And it's certainly NOT  the first time Assemlyman DiPietro has spread fake news either.
While his facebook feed is now private, it wasn't back in November and Alan Bedenko at the Public posted this article about how the Assemblyman sent out a text steering Democrats in his district to text their vote:
As it happens, an elected, sitting Republican Assemblyman posted and shared this false meme to his then-public Facebook page. David DiPietro (A-147) is credited, in part, with getting Donald Trump involved in politics in the first place. He was one of the travelers in the ring-kissing junkets from Buffalo to try and convince Trump to challenge Cuomo in 2014. 

So, this is what this sitting Assemblyman — someone you'd expect to be a responsible adult – posted,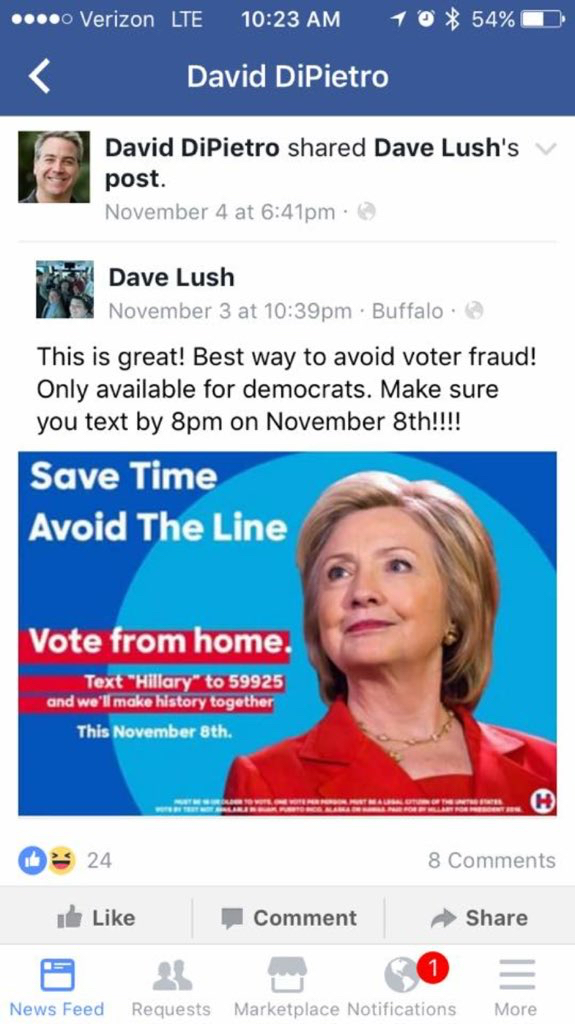 In 2015, DiPietro tried to have a few different children's books banned from public schools because he believed that via common core, 'third graders were being taught the Koran and the Muslim faith'.
 Just talked to an irate parent. Parkdale school in East Aurora is teaching third graders(8-9 year olds) about the Koran, Mohammed and the Muslim faith. It is MANDATORY reading for Common Core! The teacher would not let the parents see the book until after they asked 3 times and threatened to go to the principal!!! The reading is all done in school and the books can not be taken out of the classroom! MORE TO COME!
both books mentioned by DiPietro (Basra and Nasreen) are on the recommended book list for grades 3 — 5 under the National Catholic Educational Association. Nasreen teaches "justice", and Basra teaches "courage".
Even before being elected to the NYS Assembly, David DiPietro was the host of a highly criticized radio talk show called Buffalo Uncensored, (11am Thursdays, WECK 1230AM). The show was a constant barrage fake news about Barack Obama and other fake or false Tea Party Rhetoric, including President Obama's birth certificate, a regular topic of the shows back in 2009-2010.
WNYmedia does maintain an archive of show's f
rom that time and we will be looking through them to find further examples proving of the
Assemblyman's long time habit of believing in and spreading 'fake news' reports.
We'll be sure to share some with you soon but in the meantime, you can write the NYS Joint Commission on Public Ethics  (
http://www.jcope.ny.gov/complaint/complaintguidelines.html

) and let them know what you think of Assemblyman DiPietro's behavior
(Editor's note: DiPietro's radio show (2009 -2010) was loosely affiliated with this website based on our then partnership with WECK1230. Although we never agreed with the content of the program, the show was often archived on WNYmedia.net) 
]]>